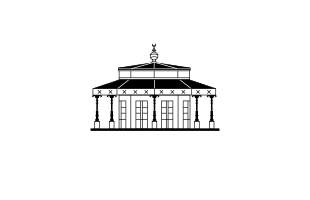 Status: Opened
Area: 300 m2 m2
As a symbolic first step in the complete renewal of the City Park, in April 2017, the pavilions reminiscent of the golden age of the park opened on the site of the former bathing place on the Zoo Boulevard.
The busiest part of the City Park has been blighted for decades by dilapidated stalls with a poor range of goods. Thanks to the Liget Project, this area has been radically renovated: the outdated booths have been demolished and new pavilions have been built in keeping with the Liget tradition.
The new facilities are based on the 1860s orientalist pavilion design of Frigyes Feszl, the designer of the Vigadó in Pest, and the interiors have been adapted to contemporary requirements. The pavilions offer visitors to the Liget a high-quality cultural, gastronomic and commercial offer in a form that is in keeping with the park. Between the buildings, a spacious terrace has been created, which is a popular social space.
The demolition of the old, outdated stalls and the construction of new pavilions with contemporary architecture and a high quality range of goods is a symbolic step in the overall regeneration of the Park. The Liget Project will renovate the neglected park, which has fallen into disrepair, to the highest standards, while respecting its traditions and meeting the needs of today, with particular attention to the green spaces, recreational and leisure functions and the historic network of institutions of the park.